---
Presented By Team Takeo
Created By MabieKnots Designs
Primary Creators: Jason and Barb
Suit Actor: Joshua Chambers
Primary Handler: Jose Rivera
Lighting: 27 strands of 50 light red LEDs, powered by 3 AA batteries. 1 strand 10 white LEDs, powered by 3 AA batteries
 
Fan Information: Intake fans are 1.5″ computer fans X2 powered by 2x 9v. Exhaust fan is a portable inflater fan (3AA)
Smoking System: "Pure Smoke" Magicians smoke effect, 4AA batteries
Longest Time in Suit W/O Break: 45min
Longest Overall Time in the Suit: 5hrs (NYCC 2015)
Adventure of Note: Meeting 3 original Godzilla suit actors IN the suit, who seemed to be taken with the suit and Josh, so exciting and such a huge honor
---
Well, it all started with my friend, Joshua, who, like a lot of folks, like Godzilla films. But he is a buff, by and large much more articulate in the history and stories of the Goji films. For a long time, we were costumers as a group, and formed a group called "Team Takeo" (Japanese word "takeo" means "great warrior"). We started modest, so many years ago, as Jedi, then moving onto Ghostbusters, and so forth, until we had done so many costumes. I personally had many accolades already, but Josh always seemed to challenge me, every year. This year, it was Burning Godzilla. His simple request, "Can you do it?".
I did, with the help of my wife, Barb.
I started with a pattern i found in a Japanese children's book, that allowed for a crude paper model of Godzilla, It was entirely in Japanese, and I don't remember where i found it, but I was lucky to have done so. I proceeded to measure the feet, calculating the size of the feet, to the relative height of the suit, and where josh would be inside the suit. After that calculation, I devised a grid, that would represent inches at scale, that I was able to transfer to large foam pieces.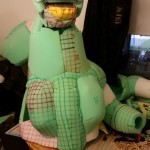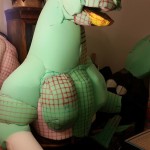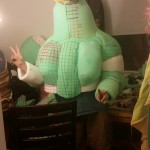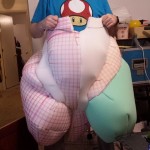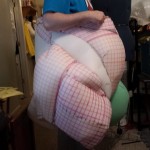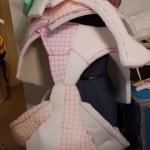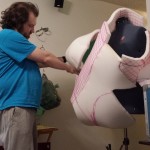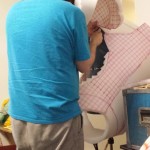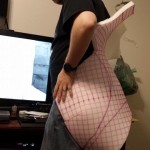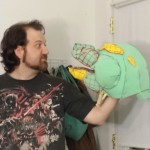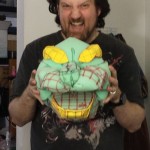 I began to glue quite a few pieces together, devising that the chest and shoulders and head would be one part, while the feet and torso was another, and the tail being the last part. I used high temp super strength hot melt adhesive, clothespins and general references to the toys and screen-caps of the Burning G. It is almost entirely made of upholstery foam, you can find it at a fabric store!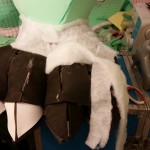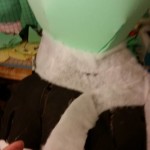 The feet were made from a thicker more robust foam, for support, and were surrounded by polyfil batting for more support. I then began to attach the various electronics, primarily lights (there are also fans and a smoking system).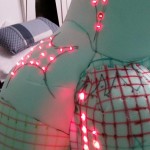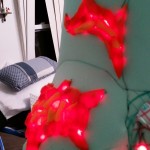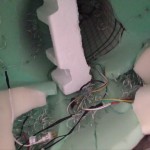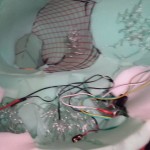 Inside there is also a hula hoop, for support which is held in place via black zip ties. Next was the tedious task of cutting the scales, which are also from the same foam. I just came up with a general Idea of a scale shape, which i god from pretty much staring at certain areas of the film, and the toys. I was aided in this by my wife and friends, all in all we estimate over 2000 scales. The scales were dyed a dark green.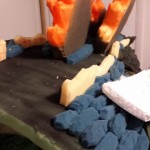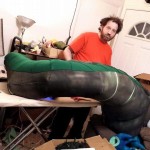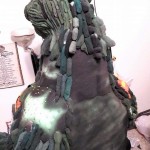 Prior to attaching the scales, I used plastidip, and leak seal to get a base color under the areas where scales would go.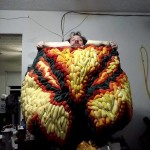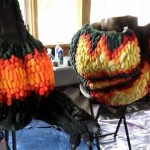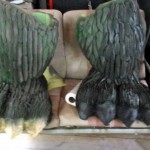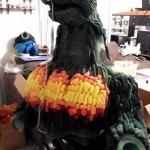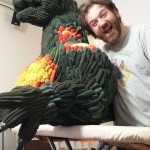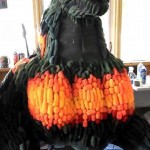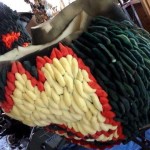 The head, parts of the neck, and the hands were covered with smaller scales, just an artistic representation i chose to use to simulate the smaller scales seen in the suit. Each of them were hand glued by myself.
After the scales were attached, the entire suit was covered in about 4 coats of plastidip, in the camo green, and blaze orange colors.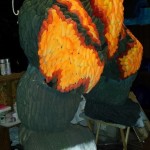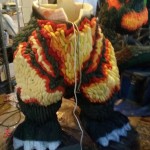 Some finishing touches include glowing lights for the eyes, painted eyes, zipper at the mid torso, and tail attachment, and transitional scales, attached via industrial strength Velcro to cover said zippers. There are eye-holes in the neck, covered by shaped aluminum mesh, covered by black organza cloth, painted camo green.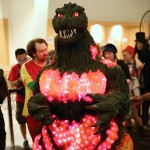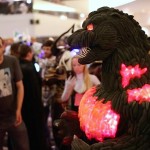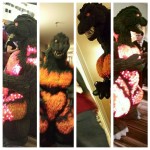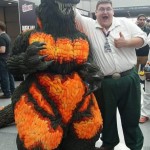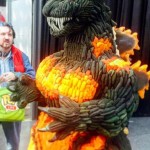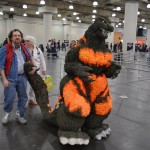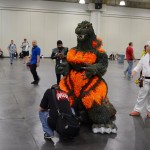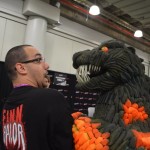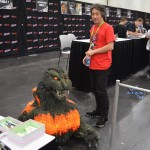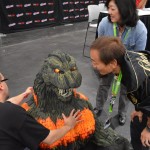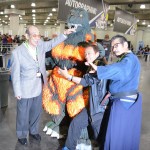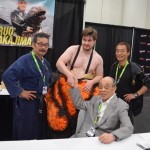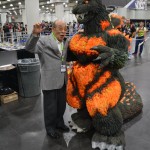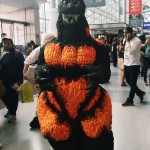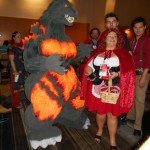 Thanks for reading!