Godzilla came to my attention not so long ago. Unlike most fans, I did not grew up watching Godzilla movies. I did, however, love dinosaurs and dragons. One day I saw a Godzilla vs King Kong picture in a children's dinosaur book. I kept that picture in my mind. It was always there. Then when I started to explore the internet, I looked up pictures of Godzilla and giant monsters. It's hard to remember what my first Japanese Godzilla movie was. I still haven't watched them all, but do have many favorites. The suits inspired me to make my own. The first attempt failed, the second…well, i'm working on it now. Godzilla is now part of me, and this obsession will never fade away.
— Cindy Soumeru
---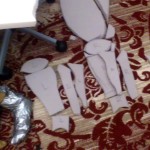 Cutting out shapes to glue together later.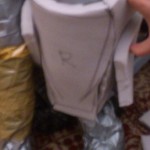 Putting the first pieces together and wrapping it around the ducttape dummy.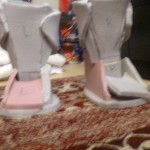 Two feet done, to just under the knee.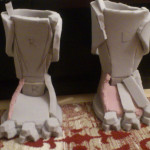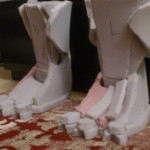 Adding the toes. 4th toe comes later.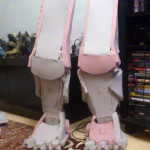 Added the knees and upper part of the leg. I also added the 4th toe to both sides.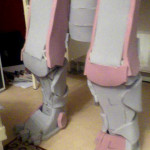 I connected the legs together with a thinner foam in the middle.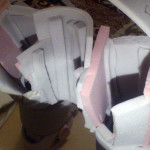 Extra foam to the inside, to make it a bit stronger.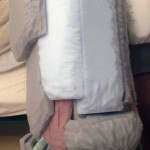 Carving away the sharp edges on the legs.
Building up the neck.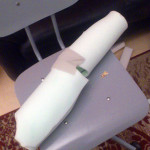 Making the arms.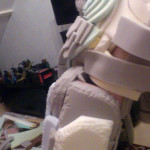 Adding a thicker belly.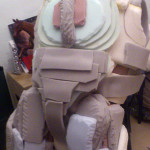 Added chest piece.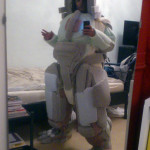 Me testing the suit.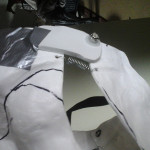 Attached springs to make the jaw moveable. They were too long, so I had to cut them.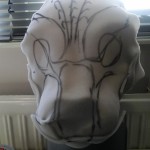 Added thin foam around the resin head and marked where everything needs to be. It didn't really matter in the end though.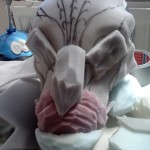 Placing foam on top of the head to make a basic shape. I wanted to go for a mix between the heisei and millenium Godzilla.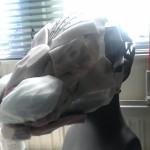 Placing the muscle.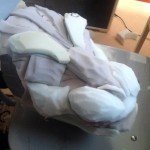 Added a nose. This is more towards the 2000 version.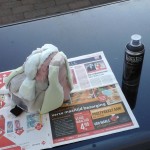 Getting ready to spray paint the base.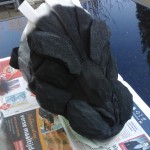 Done painting!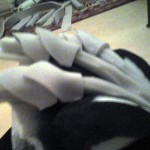 Adding the scales on top of the head. This was more my own style. I really like scales overlapping eachother.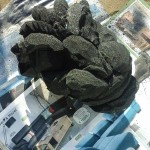 Painting again!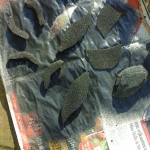 Painting the eyelids and brows before putting the eyes in.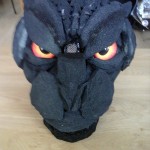 Fully painted head with eyes installed. I wanted to capture the gaze of the 2003 suit, looking all mad and badass.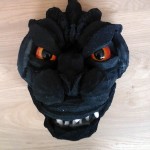 Installed teeth.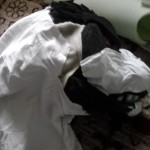 The neck is attached. It is made from old cloth.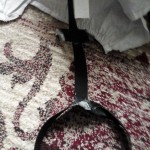 This string will be attached around my waist and will keep the head in place.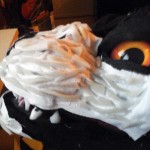 Added cloth to the face and small pieces of foam for texture.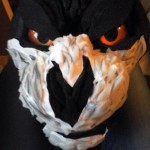 Detail goes around the nose and on the muscle. This will later be covered by liquid latex.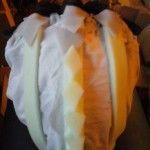 Adding neck details.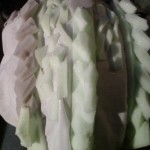 Adding more details to the back of the neck. Which will later be covered by latex.
Cindy had to cancel the project but she finished the head and it looks great!