---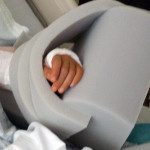 It all started when my son broke his arm. The doctor gave him a large block of foam that he had to secure his arm in when he slept.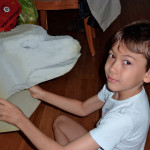 When I first saw it I thought it had the shape of a dinosaur head and I thought "I'm going to sculpt that into a Godzilla head!" So when I son didn't need it anymore that's exactly what I did. At that point I thought I was finished but my son got it into his head that I was going to make the whole thing.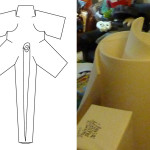 3 months before NY Comic Con and G-Fest I started out thinking I could make the body arms and legs from one sheet of foam. I bought a 2'x 2' sheet of thin foam and started working on pattern and sliced it up and taped the seams together to make a miniature model and realized it was impossible to get the arms and legs to fall correctly.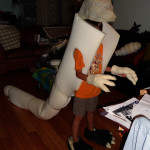 My original plan of carefully cutting out patterns went out the window and I decided to just cut and piece together parts over my son's body and cut and shave away foam until it fit correctly.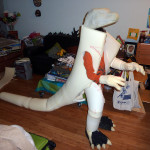 Making the pattern wasn't a complete waste of time, it helped me figure out how to do the torso which was very similar to the illustration minus the arms and legs. Although the torso was much wider.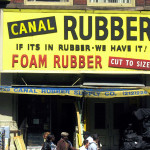 For the materials I found a store called Canal Rubber on Canal Street, a couple blocks west of Broadway in Chinatown in NYC. They sell is different sizes and densities of foam plus other rubber and plastic products. I was able to find everything I needed for the costume including adhesives.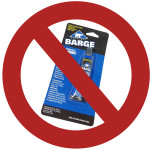 The adhesives I started with is a spray contact cement, when used correctly it is supposed to be stronger than the foam but seams started to come apart after a few days. I tried experimenting with drying times but it didn't matter. I tried switching to this tube glue but had worse results and it melts the foam (see image).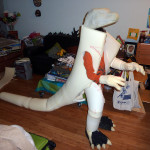 For the body, legs and arms I bought 20' of 1 1/2 inch x 4' white foam (not sure about the density – it's like what you would find in a chair cushion). I had my son lay on it and drew out his outline. Rolled a piece for the tail and wrapped the body around it.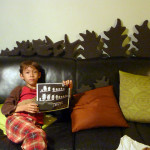 The back dorsal plates were cut out from black stiff foam. I used a box cutter with one of those blades where you can break off pieces of the blade so you always have a sharp tip. With the blade fully extended if gave me about 4" of razor sharp edge to sculpt the foam. I found images of a Godzilla model kit that had all the back dorsal plates laid out next to each other and used that for reference to shape the dorsal plates.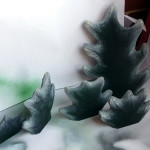 Once the dorsal plates were all cut I used a large soldering iron to melt the foam to give it more texture (You have to use a chemical respirator because the fumes are highly toxic).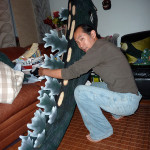 The back dorsal plates were glued and then tied on with thick black thread. The thread also gave the segmented look of the tail.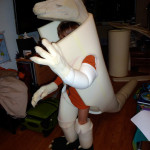 One of the arms was a couple inches shorter than the other so I cut the arm at the biceps and attached another tube of foam. That worked out perfectly.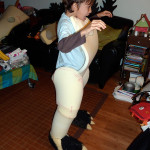 For the chest I crinkled up some plastic bags and glued a piece of foam over it and cut away piece to get the general shape.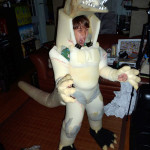 Save the pieces you cut away because you can glue them on to areas that might need more form texture or to cover seams.
The head had flat spots so I glued more foam to extend those surfaces so I could shape them.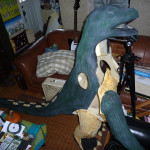 When all the pieces were made I wrapped my soldering iron with aluminum foil and burned the surface to give it texture. Again, use a respirator because the fumes are toxic.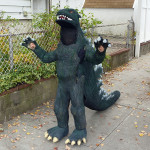 After the texture was burned in the body was painted with regular black Krylon spray paint and then lightly painted green on top. Coverage was spotty so I found water soluble fabric paint (tulip) and mixed black and green together and used that for touch up. Make sure you mix up a large enough batch so your color will be consistent. Now that I think about it I should have used the fabric paint for the whole thing.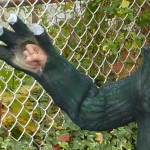 Since part of the plan was to use the costume at Halloween I wanted my son to be able to easily hold on to a basket or bag so the hands aren't made like gloves, they're more like a long sleeve that extends over his hands.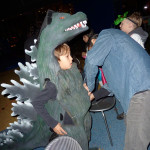 The whole suit is made in 4 pieces. The main body, legs and chest and 2 arms. The 4 parts are held together with Velcro. I wanted it to be one piece but as my son was standing there in all the parts and I was trying to figure out a way to put it all together my wife suggested keeping the parts separate and holding it together with Velcro. This solution also helped with the ventilation.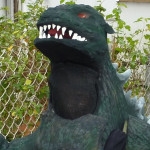 To cover his face we took cheese cloth and soaked it in black paint. The paint helped make it stiff and retained some shape. It was also opaque enough so you couldn't see his face but the loose weave make it easy for him to see and breathe.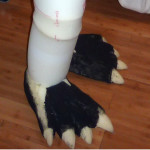 The feet are attached by glue and thread and carved out to hold his shoes. I hollowed out the toe area so it would hold the shoe inside the foot. It worked fairly well.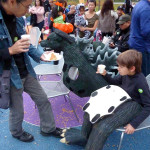 Certain seams I knew would be under a lot of stress like the crotch and knees, so I sewed them with the same heavy black thread I used to hold the back dorsal plates down.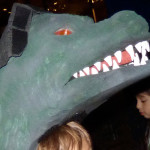 The teeth are made out of this white plasticine play dough. I made the teeth with roots that I applied glue to and pushed them into slices in the mouth. The material is light but fragile and breaks easily. Regular play dough may me stronger.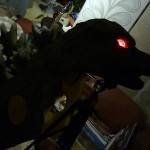 For the eyes I had planned on painting some plastic Easter Eggs but my wife found some red diamond shaped LED diamond lights that fit the eye sockets perfectly. I originally because of it's lack of authenticity but I have to admit it had a nice effect in the dark.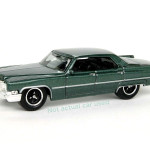 The tail was getting scratched up being dragged on the concrete so I tied a matchbox car under the tail from scrapping.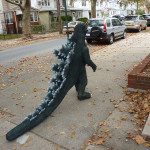 The whole process was improvised but somehow turned out pretty well.