"This is Godzilla and Baby Godzilla created by the Anna G. Costumes team, which includes myself and my two fantastic assistants Rebecca and Angela.
I bought upholstery foam in both 1/2″ and 1″ width. This can be expensive, so shop around for the lowest price in your area! Unfortunately, I didn't find out about the cheapest spot for foam in my city at about 80% through the project. Now, I know that The Textile Discount Outlet in Chicago has the craziest deals on it. I recommend calling them and seeing if they can ship to you!
We used 3M Hi-Strength 90 contact spray adhesive for all gluing. It is available at most hardware stores. Make sure you work near a fan or in a ventilated area because the glue's vapors are intense!
Modge Podge to harden the foam for paint. By it by the bulk. You'll need a lot!
Montana Spray Paint in black and gray. This can be expensive, but it works well. If you want to cut on costs, you can use this spray paint for the first coat, then use a cheaper spray paint for the second coat and highlights."
— Anna Glowacki | Anna G Costumes: www.annagcostumes.com
---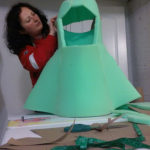 I start experimenting with Godzilla's head. I started by making a tall tube for the neck then a layer of foam over it. I kept the shape of the head very geometric, aiming to refine it later.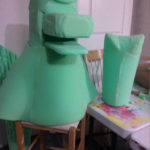 Godzilla and Baby Godzilla have their very basic head shapes. I used a piece of 5 inch thick foam for the top of Godzilla's mouth.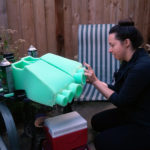 Angela gets started on Godzilla's feet. Again, she sticks to geometric shapes.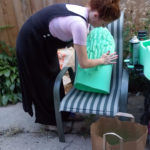 Rebecca, creates a cylindrical shaped thigh for Godzilla, and also tests out a few scales. She cut them out of foam individually with scissors into vertical shapes. Grooves were cut onto the top of each scale.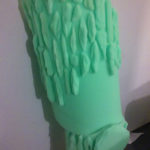 Rebecca and I love the scales! So, I create a lower leg, and I glue it together to the thigh. Then, I create a knee. We add more scales.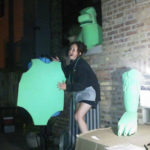 I take advantage of the warm weather outside to continue using that contact adhesive spray! I cut out a basic torso shape. I make sure to keep the crotch area extended, as I will be adding a closure there later. My plan is that the costume wearer can slip the torso on over his head, and then clasp the crotch together.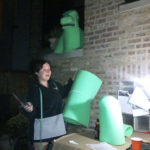 I cut out and make legs.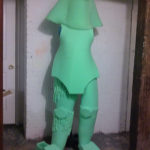 Godzilla has a basic body shape!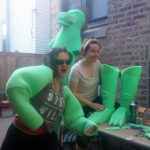 I work on arms for Godzilla while Angela makes legs and feet for Baby G.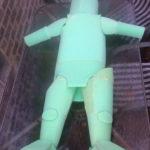 Baby Godzilla has his basic body shape!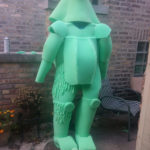 Godzilla is starting to come together! I added a belly and attached the arms.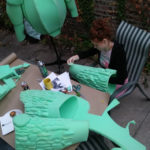 Rebecca keeps adding scales to Godzilla 's legs.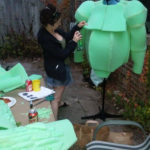 I work on chest muscles for Godzilla.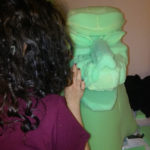 I refined the shapes on Godzilla's head by adding some cheeks, a nose, eyes,and a forehead. I added scales.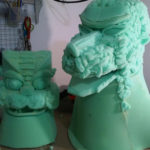 Like father, like son. The heads of these monsters so far!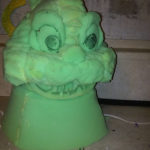 We realized that the top of baby Godzilla's is too square and he looks too angry. I rounded out his head and made his expression look a little more cute vs. angry.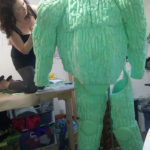 I finish up the scales on Godzilla 's body. Cutting out and attaching scales were definitely the part that took the longest on this project!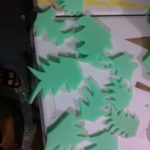 We cut out Godzilla's dorsal plates in various shapes and sizes.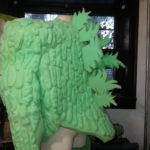 I added the dorsal plates to the torso.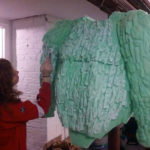 Rebecca prepped Godzilla's torso for the first coat of paint. She used modge podge. It hardened the foam, eliminating the soft porous texture.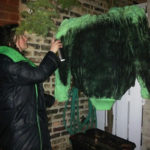 I started the first coat of paint. I used Montana spray paint.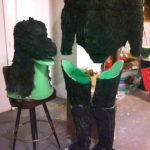 For a first coat, the spray paint has gone on pretty thick!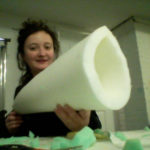 I start Godzilla's tail. My plan was to connect a series of cylindrical shapes together.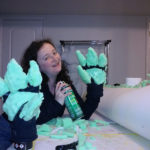 I created Godzilla's claws. I used pair of large snow gloves as a base. I glued foam fingers over them, making sure to leave room for bending. I glued the middle and ring finger together, to get Godzilla's famous 4 fingers.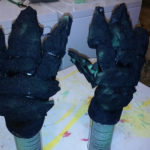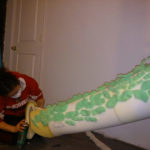 I attached Godzilla's tail to the torso and added crudely shaped scales on top.
Baby Godzilla also gets his tail and scales, while I fuss over something on Godzilla in the background.
Baby Godzilla's head is almost done. That black part is an eye screen for the costume wearer to see through. I used a crinkled organza fabric. The texture of it matched the rigid texture of the scales.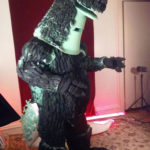 Godzilla has his first fitting on a human! We had been using a dress mannequin up until his point. He's looking good!
This is how the costume is worn:
The legs slide on first.Next, the feet slide on over the legs.
It's a tight fit, but once they're on, the feet keep their shape and do not move.
Any shoe can be worn underneath. The "torso body" slides on over the costume wearer's head.
There is velcro in the crotch area, and up the back to close it up.
The gloves go on next. The head goes on last. There are 4 velcroed places for it to anchor to the body.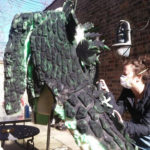 I continue spray painting.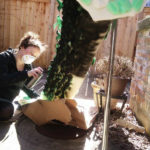 I spray paint more.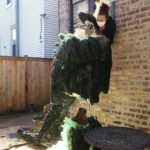 And you guessed it….more spray painting!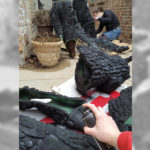 When a wind advisory is announced, and all body parts of these monsters go flying everywhere, Angela and I keep spray painting!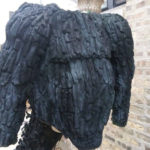 Finally, spray painting is complete. I added some light highlights to give Godzilla dimension.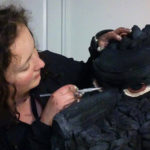 Angela and I hand paint eyes for Godzilla and Baby. We used acrylic paint.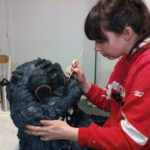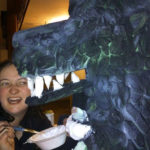 I perfect Godzilla's teeth. I look crazy in that photo, because at that point, I had gone crazy with how long his project had taken.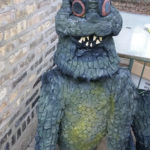 Baby gets his teeth and highlights!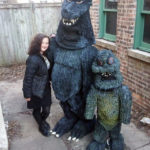 And the project is complete! We are such a happy family- Anna G, Big G, and Baby G!