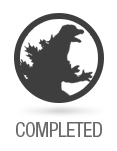 Purchasing
ONLY VERY VERY SERIOUS INQUIRIES
The costumes on this website are the creations of their respective builders and they were built out of complete joy for the character. Since I know many people don't understand what goes into making a costume like this I'd like to state that most of the time they are NOT for sale and NOT for rent.
To build a costume like this takes several months and costs a lot of money in materials. That being said unless you are willing to pay at LEAST $10K for a costume please don't email me. Sorry, just being honest! Thanks.
If you want to talk about building your own and the techniques you can use then PLEASE email me!
Be creative.
Be yourself.
Be amazing.
Build your own costume, take the challenge and show your unique Godzilla costume to the world!