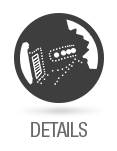 Details
SEAN SUMAGAYSAY'S KIRYU MGS-3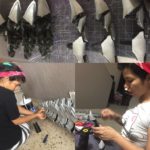 Juli handles the Hand & Tail detailing.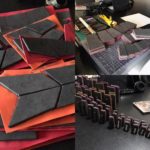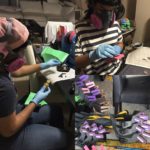 Juli applies contact cement to rivets & spines. Small details such as rivets were done with googly eyes.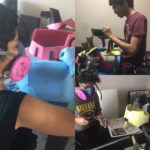 Teamwork is our greatest tool!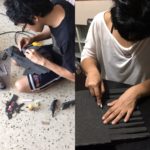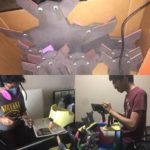 Small details such as rivets for spines were done with googly eyes.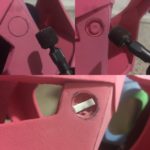 Engraved rivets were made with a dremel drum. Along with adding a strip of thin foam to add specific details.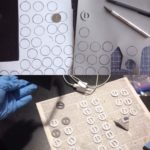 Juli went through a huge effort to cut out the uniquely designed rivets for Kiryu using thin craft foam, 30 to 50 of them!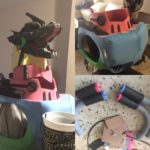 More Chest detail! The 4 ribs were made using a combination of PVC pipes wrapped in cylindrical foam patterns.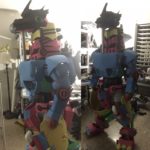 Making sure the proportions are just right! It's exciting when every starts coming together.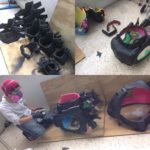 Once the whole foam exo-skeleton is done, it's ready for priming! I used Black Matte Plasti-Dip as a base coat/primer.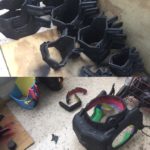 Once all is primed, the armor is fully coated with a Matte Silver paint spray.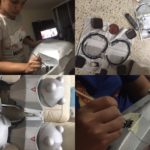 After painting, Juli carefully adds the little stencil detail & preparing the black wire/tubing.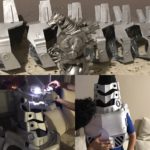 Test fitting the suit before any final adjustments.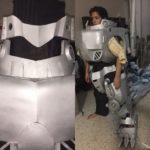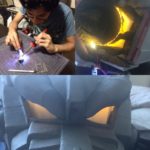 The glowing eyes are soldered white led strips painted with a thin yellow acrylic paint, disfused by a layer of thin plastic sheet & tracing paper. Kiryu is complete!!