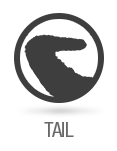 Tail
COREY HARRISON'S MECHAGODZILLA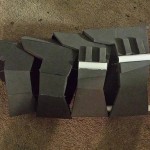 Started the tail today, each section is just a smaller version of the one before it, it'll move with me, but won't in anyway flail around. I'd need handlers for that, and a lot of wire.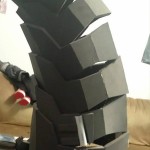 The tail is coming along…this was tedious. the trick was to work on one section at a time. not one piece, smaller and smaller, that took forever that way.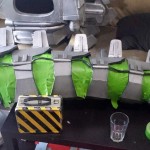 Frog tape tastes awful when tearing it with your teeth(bad habit) but, already had base painted the separation of the tail plates in plasttidip, a rubberized spray paint. Didn't want to overspray it with the spray used as a base coat for the armor portions of the tail.
---

Tail Videos

Only two links in and a long way to go:

Each section of the tail will be held together by wire and PVC so it can sway and articulate :

Eight sections complete and currently 8 feet long:

Quick video of the spines on the tail:

Full tail has been primed and sealed for painting.