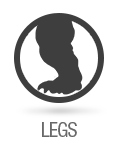 Legs & Thighs
COREY HARRISON'S MECHAGODZILLA
Doodled a bit for the start of the thigh plates. It's really helpful to jot it down and try to wrap your head around it this way. Even if you can't draw, it kinda helps. A motto of mine for building is "find the basic shape".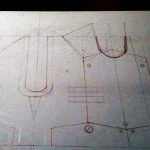 Got the thighs graphed out, and cut out, next is assembly.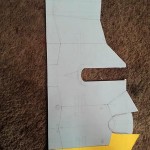 There was a bit of math here, as it had to have a certain diameter to it.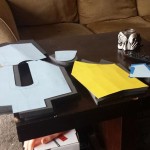 Making matching pieces of foam for each template. You have to make 2 each, one with the template right side up, the other, upside down. It helps you get opposite side pieces.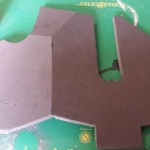 The thighs were designed in a day and built the next. Trekking right along!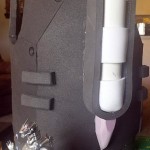 Got my details started, these are really popping now. It's coming along so fast.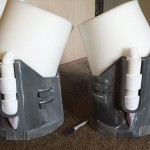 Using a material called Super Soft Foam, a material very similar to memory foam, I made the membrane for the thighs and groin to the inside of the plates. There's very little transition between each plate and the membrane.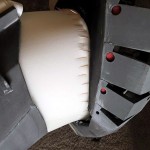 It took me a bit to figure out how to attach the new thigh and membrane to the actual lower portion of the body. I tried sewing with fishing string to temporarily hold while I glued it. I also tried just slobs and globs of hot glue but without constant and full contact, and several pairs of hands, it was just a mess. Until I figured out this little trick…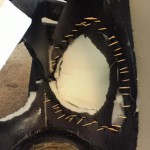 Toothpicks! They were the solution.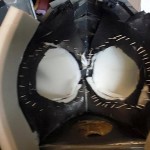 Once everything was glued in place, they popped right out, easy peasy.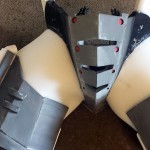 Next time however, I'll use Barge Cement instead of hot glue. As that's never a good choice for longer lasting adhesives.
Testing out the movement of the thighs and walking around a bit with the leg bits on there! this was fun to do. It was a great hint at how comfortable this suit was going to be. aside from the head falling off, which, wasn't secured on yet, as I was still contemplating the jaw movement mechanisms. which will be added hopefully by a new convention in June.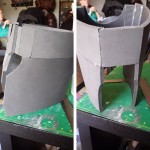 Got the thighs built. Mostly. Not sure where the template photos went,. pretty sure I took some. Also, feet! they were made mostly out of foamular. While brittle, with the right layering and glues, the stuff is pretty reliable. if not properly treated, you might as well throw your prop away. I learned the hard way on the first day of Megacon, Lost all of my toes. Luckily we recovered them as they came off, and they were reattached that night. Eventually I want to redo the feet to look a bit cleaner and less awkward.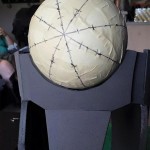 So here's what was left to do for the shins, the big half spheres for the knees were easy. I taped up a styrofoam ball and drew it into slices.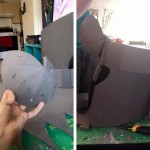 Then I cut those slices out and templated those to foam. It was done just like the scalp.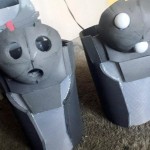 One thing I learned from making Space Marine armor is that you can use ping pong balls cut in half as studs. Get a good hole saw, drill bit, and you've got yourself some perfect circles to root things into.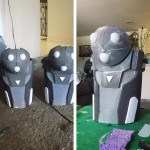 The shins needed a bit of mesh over the space between sections of the shin. Also kept my feet nice and cool to have a breeze coming through right here.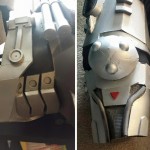 PAINT!!!!!! layer upon layer of plastidip, fusion plastic bonding spray paint, and then tons of silver spray paint. Normally I prefer house paint. i seals pores of foam and makes a nice even coat, in just 3 coats. Though, I was unaware that silver house paint existed at the time.