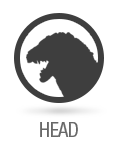 Head & Neck
COREY HARRISON'S MECHAGODZILLA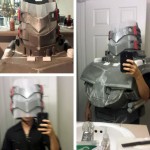 Added plastic mesh on the inside of each separate section of the neck. You can see out it perfectly, though, much easier when it's black(less glare) Had a bit of fun test fitting this.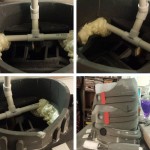 To allow the neck to sit in the correct position, tilted slightly downward, I added a PVC structure underneath. I then filled and held it in place with some expansion foam which gives the neck a bit of a curve to it.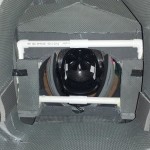 Here's the inside of the collar, move fittings, helping with the front and back placement and holding of the neck.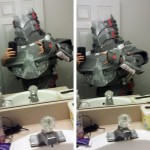 Test fit, hell yeah. Still not too keen on the shoulder bit, moving on!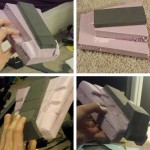 The snout was a fun piece, did alot of drawings to come up with the basic size and proportioning of the head. Carved a lot of it out with foamular, then covered it in wood putty later to keep the dents and unwanted uneven surfaces visible.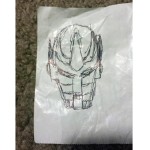 Plotting out the top view of the head a bit, helps me understand how its going to be shaped out. If I can draw it, I can build it.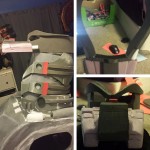 Working on the brow, side of the jaw, and the walls for around the head.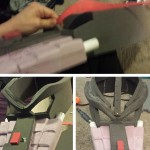 It was actually nearly built in a single night.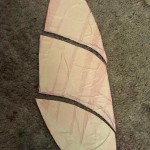 This part is a bit private, but, to get the idea of the shape and angles of the foam, I tape overtop the section I can't figure out. For instance, the plated cap of his head. Tape over it, layer by layer, draw out the outlines of the space, draw out the middle dividing line, then the plates themeselves. and cut free. from here I would place that over paper, clean my edges, and template and cut to foam.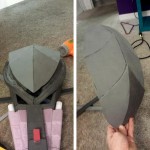 Tada! it sounds crazy, but it really works the cap of the head is pretty clean and looks rather crisp, happy that trick is reliable.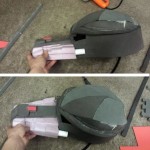 Now the real fun begins, nose details, the brow spike, and the start of the cheek plating.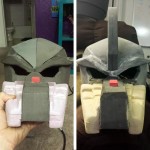 The Brow Spike.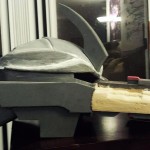 Cheek Plating.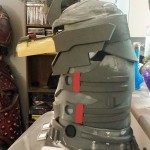 Here's a test fit of the head on the neck and body.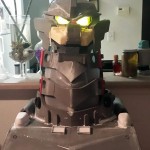 Added flashlights inside the head, just a cheap pair of them that cost about $2 for a pair.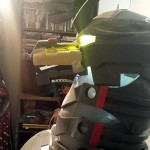 The eye's themselves are just bits of acrylic sheets, covered in a yellow vinyl wrap that only cost a few dollars. Didn't want the eyes to be translucent at all. so, the vinyl was a good choice.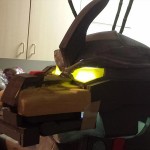 Those eyes really are getting me, this is so cool.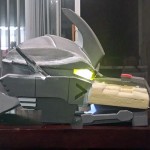 Look at the head! Still so cool!