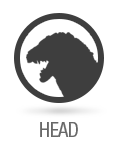 Head & Neck
TRISTAN DOMAY'S GODZILLA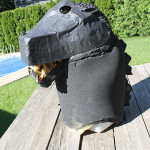 The first head I made was a foam tube topped with a papier-mâché face.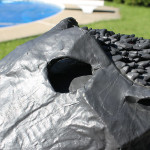 Since the papier-mâché stuck out so much from the rest of the costume I decided to redo it in 100% foam.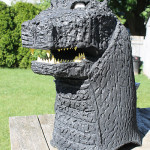 For the tube that made up the neck I used 1 inch. For the actual head, which was glued on using contact cement, I used 3 or 4 blocks of 4 inch foam and carved it down into the shape I wanted using an electric turkey carving knife like the kind you use at Thanksgiving.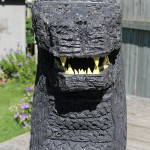 The eye sockets were dug out with scissors and the skin texture was again accomplished using my trusty wood burning kit. The eyes were styrofoam balls and the teeth were made from Model Magic (essentially a modeling putty that dries like Styrofoam).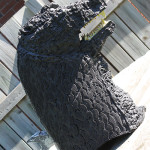 The eye-holes were burnt into the neck using the wood burning tool. Thanks to the fact that my suit was just a few shades off from being dead black, coupled with the fact that the throat also had a very rocky skin texture, the eye-holes were almost completely invisible to the outside observer.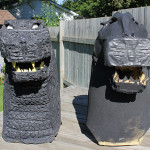 In this comparison shot you can see that using the same materials as the rest of the suit the new head turned out much better than the original.