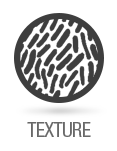 Texture
SEAN SUMAGAYSAY'S GODZILLA
Although the foam was already used to give the suit's overall design and shape, along with the patterns of it's scales. It still needed it's skin texture and color to give it life.
---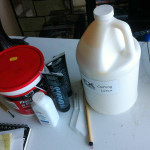 My main materials for making the latex skin/scale patches.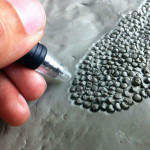 Sculpting the scales to have them ready for casting… a pen is doing the trick!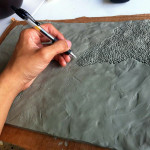 About 5 minutes after the last image.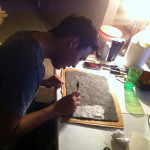 2 of my friends came over later in the day and helped out. It took at least 3 & 1/2 hours to get it done.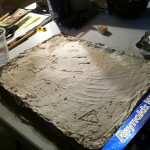 After that I poured plaster onto the clay mold. The aluminum foil was used as support for the frame of the plaster. It dries/hardens fast, so my friends and I had to be quick to mix and pour.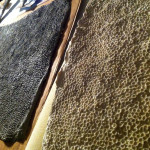 After an hour the plaster was then pulled out carefully, and the clay remained intact.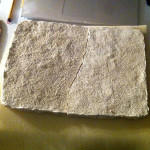 The cast was successful (it snapped at the center, I forgot to add a thicker layer of plaster in that area, not a loss though) I'll have a second set of this same pattern to have double the latex work, I'll be doing the same with the next set of patterns.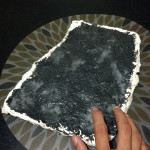 This skin patch is ready for gluing! I mixed basic ivory black acrylic with the liquid latex, which is more affective than painting directly on a dried one. The mix looks light gray at first but darkens back to it's rightful color when it dries. P.S.: To remove the latex, be sure to cover it with some talcum or baby powder on both sides to keep it from sticking to itself.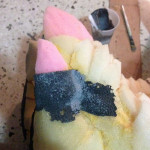 I used the same spray adhesive used on the foam to glue the latex.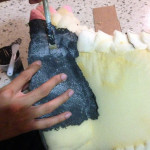 To cover any overlapping pieces I brushed the edges with tinted latex.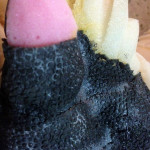 Looking good!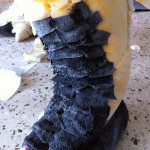 I realize that the most difficult part for now is cutting and folding the latex onto the already overlapping scales on the extremities. Once I'm past that then I should be good to go for the rest of the suit.
Progress from last night's Google hangout: scales from the back of the left leg & thigh.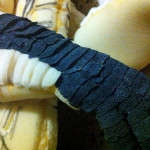 One of my favorite patterns in this design, the scaly arms.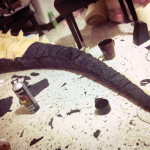 Spent a whole day gluing latex onto the tail and I've only gotten halfway. I'll continue in full force next week!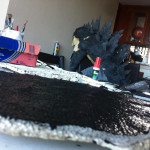 Description coming soon.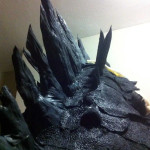 Description coming soon.