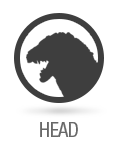 Head & Neck
SEAN SUMAGAYSAY'S GODZILLA
The head was the most important part of the suit for me in order to capture his ferocity and majesty. I used a block of foam so that the head would be stiff enough to hold on it's own.
A black marker was used to draw the face on 3 dimensions for all sides of the block as a reference as I carved my way in. Once the basic shape of the head was completed, I tweezers and scissors to carve out foam for the inside of the jaw, eye sockets and other details.
---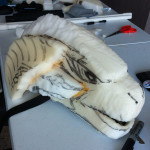 Been working on it every time I'm on a break from homework. Been so distracted that I couldn't keep track of progress. So here is the head already taking shape.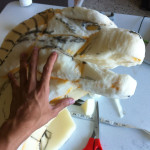 The head is showing a bit more progress. note: I'm going to attempt an elastic technique to pull the jaw from the inside using my head.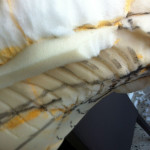 For the neck scales, I started with strips of foam to create the "outline".
The "outline" is then carved to an approximate amount of scales for the design of the neck, on both sides.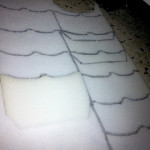 I then cut out thin patches of foam in patterns.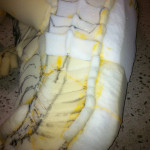 The foam is then glued in an overlapping pattern from the base of the neck all the way to the back of the head.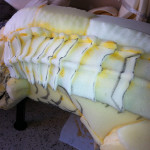 Done!