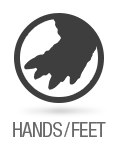 Hands & Feet
SEAN SUMAGAYSAY'S GODZILLA
The legs were the first thing I worked on. Personally I felt that the only way I could get the proportions almost right were to use stilts and work around that; it took me about a week to buy the materials, cut the wood using a small hacksaw and screw them all together with a screwdriver. Foam was cut and glued around it, but not glued onto in case I ever need to remove them. The stilts helped created a basis for the proportions of the suit, and managed to lift me up to what would ultimately become Godzilla's "calves"
The hands and arms were crafted around and glued on a glove that I hand-sewed. Claws for the hands and feet where made with a firmer foam and glued onto their respected areas. The arms were then glued to the upper torso region.
---
Feet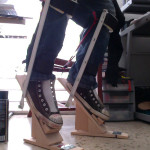 Here are my custom made digitigrade stilts. I followed instructions from https://sites.google.com/site/gryphern/ and bought the materials myself. The total budget for the stilts was $61.14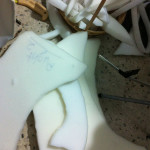 Creating patterns for the legs.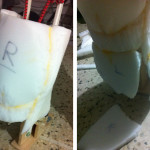 Cutting, trimming and gluing. Had to mark the foam pieces to not mix them up.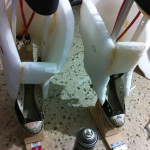 Making sure everything fits in place.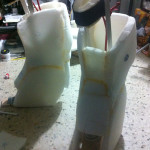 Something is starting to take shape here.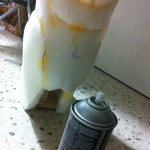 This adhesive works like a charm!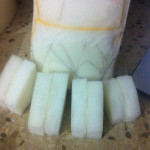 Cutting up toes.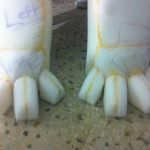 Claws and details will be added later on.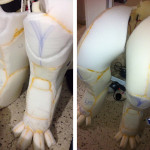 Thighs being added to the legs.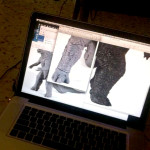 Gotta love action figures for reference.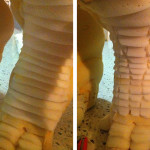 Same process as the neck scale patterns for the legs and thighs. These will be carved to match the actual look.
---
Hands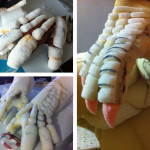 I'm carving some hands (Taking some notes from Jacob Baker)