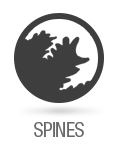 Dorsal Plates
SEAN SUMAGAYSAY'S GODZILLA
The dorsal plates were also another important part as it was one of the things that stood out and made this Godzilla design unique in my opinion. I started with a basic outline to determine the positioning of every single one, using the toys and images from the film as a reference to draw an accurate silhouette. Once the design was cut out, the ends are carved diagonally on both sides to give it's thin-sharp edges.
---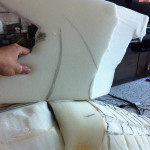 To work on the dorsal plates, I used a 2 inch thick sheet of foam. Starting with a basic outline to know the positioning of that spine.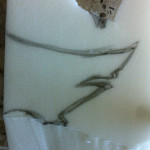 Using some toy and trailer images for reference to draw out an accurate sillouette.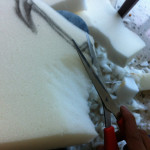 I then cut out the shape and start carving the edges diagonally to give that "sharp" feel.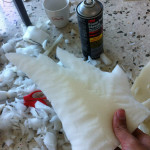 And presto! note: If you accidentally cut a piece out of the design, you can easily glue an extra piece of foam and "re-carve" the area.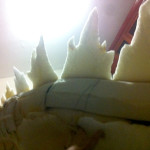 The middle row of dorsal plates – still a work in progress.