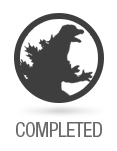 Completed Costume
SEAN SUMAGAYSAY'S GODZILLA
Here is the completed suit. I could say that I'm somewhat satisfied, but there is still plenty of room for improvement. The stilts weren't included for the completed suit because a screw on one leg broke apart about a month before completion, making it un-repairable.
---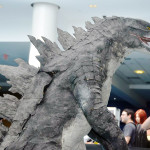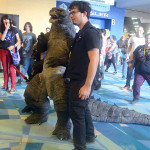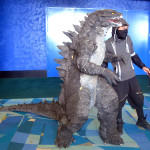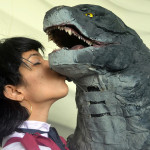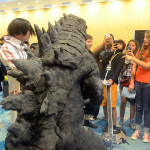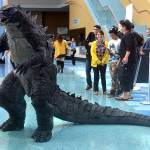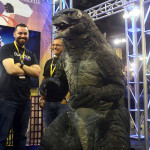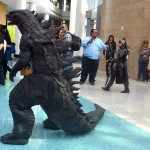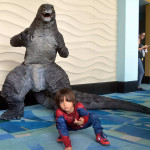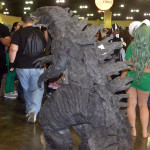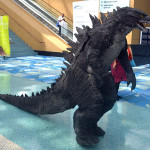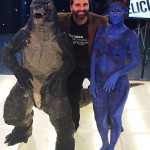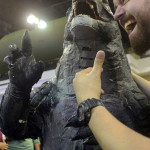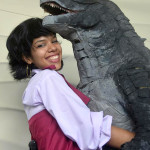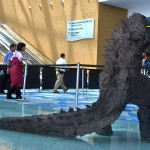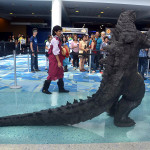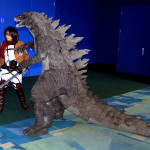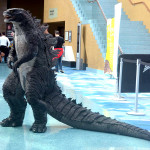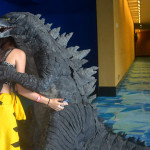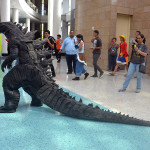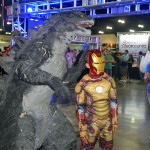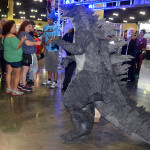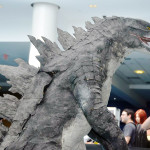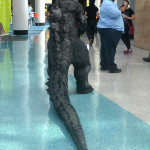 ---
The frontal area of the suit (head to pelvic area), undersides of the arms and both sides of each leg had to be last minute add-ons using masking tape and coating them with latex to prep the suit for this year's Puerto Rico Comic Con; this meant the suit would have many fragile spots, which meant that any movement would easily tear those areas, so I had to be very cautious when walking around.
That's not to say that I really enjoyed the day and loved everyones reaction, people were so impressed by it, children were in awe or scared, and pictures were taken at every second. I would last for about 2 hours and would have to take an hour break. Thankfully for mother and girlfriend were there to support me at every moment and made sure I felt comfortable being inside the suit for so long (I didn't need to worry about the heat, had a portable fan that would serve as a ventilation system, along with cooling gel packs).
At the end of the day I was exhausted & had to go through a few body aches for about week or so, but it was so worth it.
Just like I said before, the suit will go through improvements, I'm even considering building it from scratch all over again. My goals for phase 2 is to have a suit that can achieve far more dynamic poses/movement & improve the proportions and accuracy of the new Godzilla design. Stay tuned to the suit's official page on Facebook for further updates.
Hope you guys enjoyed this. And as always; long live Godzilla, and love cosplaying.
-Sean