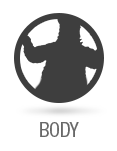 Body
SEAN SUMAGAYSAY'S GODZILLA
The Body was the second part into building this suit. It was the easiest thing to work on as larger "flat" sheets meant little was needed to carve around. The back region was sealed with plastic belt buckles and fully covered with velcro using a thicker piece of foam that would later house the iconic dorsal fins.
---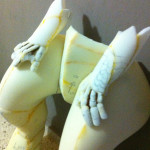 Basic shape for the lower waist and hips completed and attached.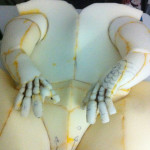 Added upper chest area and connected arms.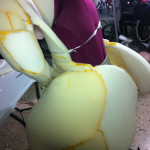 Strapping the suit to a torso mannequin to keep it in position.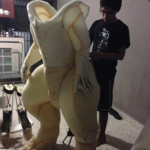 Making sure that the suit is well positioned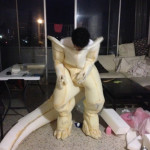 Yours truly wearing the suit (with stilts)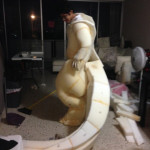 Testing the mobility of the tail so far.
Plastic belt buckles were glued on & used to seal the back of the suit.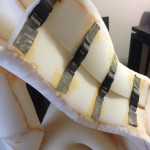 Close up of the buckles.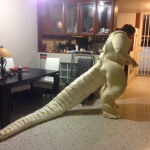 A profile view of the suit to digitally draw what's left for the overall base.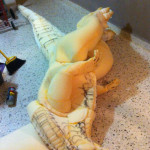 Godzilla likes to take a nap!
Carving the chest armor plating, used the airport poster as a reference.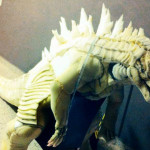 Done a lot of carving texture into the suit and added the dorsal plates!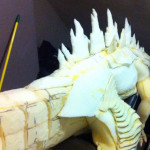 Back lower angle of the suit looking up at the attached dorsal plates.