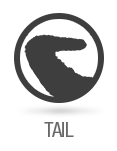 Tail
ROBERT PRUITT'S GODZILLA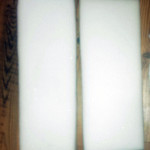 The perception of segmentation is key for a Godzilla tail, even if it is not actually segmented. I initially wanted my suit to have a segmented tail so that it would look cool dragging behind me. Using one inch craft foam I made my segments. All the segments were 6" long, cone shaped with a 1" increase from the opposite opening. I used crayons to hold a gap to keep the segments apart from each other.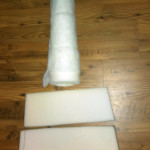 Once a few pieces were covered in quilting batting, I would start on the next set. Once the tail was approximately 4 feet long, I stopped, mostly because I was unsure on how I wanted the tail to attach.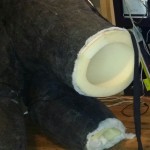 Next I began focusing on the body portion of the tail. Immediately I found that my original design had the base of the tail too long and at too little of an angle. I racked my brain for a few hours when my wife walks in and came up with an ingenious plan to make gradual bends.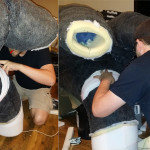 I took out my trusty kitchen knife and began making segment splits. Basically we cut the underside of the tail base and added in a 4" wedge of 2" foam, just like the ones I made for knees and elbows. We spaced the wedges several inches apart so there wasn't too great a bend too soon. Ready for attachment!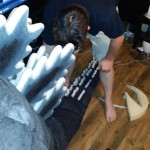 I chose to make the attachment permanent. I figured if I went with a seam there was a higher chance for me to have a tail malfunction. Whether it be in the movies or at conventions, Godzilla always seems to have someone pulling at its tail.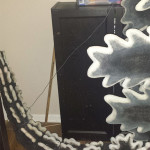 After the attachment process, I decided that dragging a tail might not be favorable when traveling great distances or maneuvering up and down stairs. I decided to have my tail be lifted with the option of being dragged behind if wanted.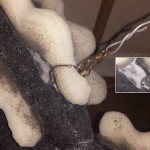 I fashioned a hook line system with two dowel rods, a spool of fencing wire, and a key ring with a clip. I took a piece of wire and wrapped a key ring to a 6" dowel rod. I made a small split in a section of the tail so that the dowel rod could slip in but not out so easily.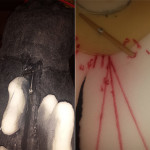 I attached the hook to a long line of wire. This wire pierced the back of the head and was attached to another dowel rod to keep it in place. I attached the wire this way so that the tail could be put into a swing-able position or so that I could hang the suit to stand up for pictures when not in use.