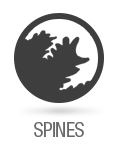 Dorsal Plates
ROBERT PRUITT'S GODZILLA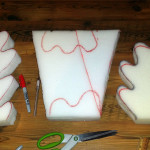 I chose to do foam dorsal plates mostly because I liked the way they look on builds from other people. I started with the larger dorsal plates but had no real definition on the size I wanted to make them. Basically I just drew a rough shape of the largest one and that's the size that I started with. I used a knife to trim out the shape. I then used that as a template for other sizes.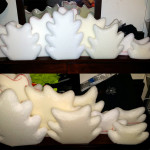 Each time I cut a new one out, I hand shaped it with scissors and displayed it on a table to show size and placement. I labeled each one at the bottom to show the ordering and positioning that each dorsal plate would take.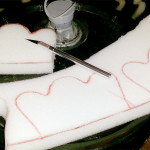 Tail dorsal plates were made out of 1" foam and all uniform. I was cranking these things out like I was making cookies. Since they were so thin there was not a lot of effort put into shaving them. I just cut the edges off and blended those to look round at the "lumps".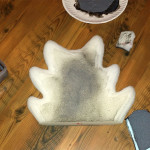 Painting the dorsal plates. I experimented with several different shades and colors for the dorsal plates. I wanted the middle to be darker but wasn't really sure how. I looked at lots of pictures but nothing really came to mind.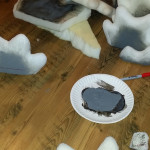 Extremely late one evening I dropped one into a plate of latex, and decided to call it quits for the night. The next day I found that after it dried, it gave the dorsal plates a dark center look and was pleased with the result. My wife came up with the idea to fade the color with a grey paint to lessen the transition from white to near black.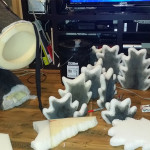 Final look before going on the suit!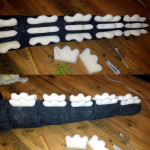 Starting with the tail first. I figured the smaller ones would be easier to reposition if needed, plus the tail wasn't attached at the time so it was the easiest to mess with.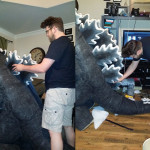 Attaching the final few dorsal plates. While it is not pictured, to keep the foam in place so that a dorsal plate doesn't accidentally fall off, I used a combination of hot glue and latex. I used plenty of glue around the edges of the dorsal plate base, then I soaked the bottom of the dorsal plates in latex so that it would adhere to the suit. Having 70% of the outside dorsal plates coated in latex has greatly increased the durability. While it is possible to lose a point on the dorsal plate it's less likely to be ripped in half or come away from the suit.