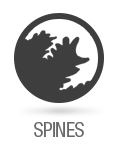 Dorsal Plates
MITCHELL METTAM'S GODZILLA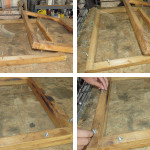 Wood frame for forming table with finger tighten bolts for quick release. I had one piece of plastic get too hot and drop out of frame, but otherwise this thing worked pretty well. The next one will have vertical rails and a heat element at the top.
Forming table set up with vacuum connected.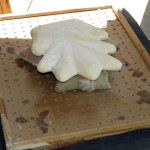 Setting up dorsal plate, I've found added height created a better mold. Sand bags were placed to increase depth.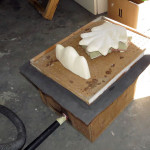 Forming bucks and the stove I use in the studio, not for food items.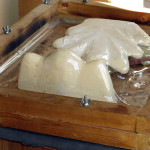 First side formed.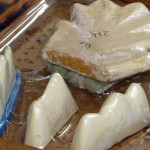 Second side molded.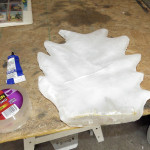 Lighting dorsal plate test, used for testing paints, lights and adhesives. Can be used as a back up dorsal plate should one get damaged. Polycarboante requires special adhesive, and I used the tape to fill holes from my sloppy cutting.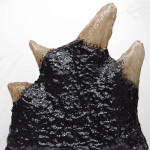 Just finished, and it is dry, though it looks wet. Three coats flex foam 3 and two coats dragon skin glazed over vacuum formed dorsal plate. A quick wash of green will homogenize color, and dull down some, bases on my experiments.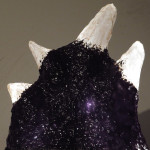 Same dorsal plates with lights on. A few light leaks, but with a little green wash, they will tone down. Ten more to go!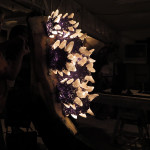 All dorsal plates have been formed, and glued together with a base coat of silicone, and white paint.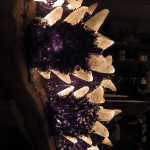 Inside are 5 white Christmas lights, used because of easy replacement. Each dorsal plate is from from 6″ wide to 10″ wide 2″ thick and 8″-15″ tall.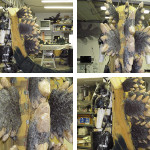 Added main dorsal plates to the back…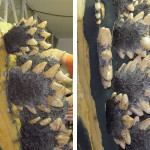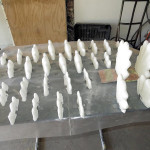 Foam dorsal plates using the flex foam 3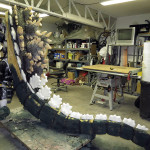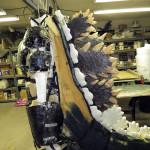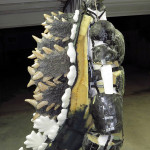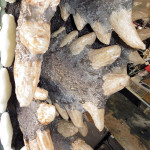 Love the coloration, however it needs just a little brown to transition between the bone and skin.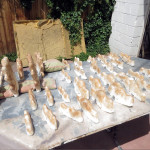 Painted dorsal plates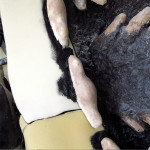 Using Flex foam to fill gaps between dorsal plates and back skin.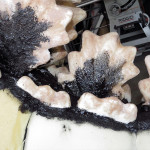 Detail of dorsal plates with base coat.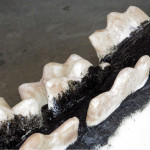 Again detail of base coat, flex foam 3 used as filler and dorsal plates.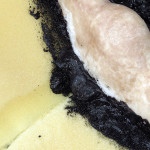 Flex foam detail, note the silicone paint used on the foam dorsal plates giving some depth.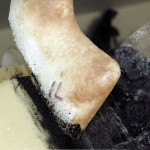 I labeled all dorsal plates 1,2,3.. and designated the left as "L"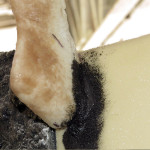 Top dorsal plate of right side.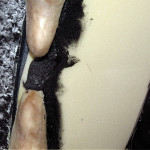 Detail to show how Flex foam is kept away from the Velcro seams.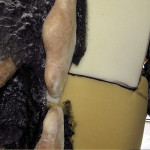 This is tomorrow's task to build a fastener for the small dorsal plates at the seam. The black marker line on right shows where to detail the top most tail segment to conceal the seam.