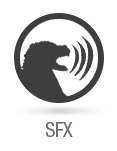 Sound FX
JIM FAZAR'S GODZILLA
There are many distinguishing visual features to Godzilla but I wanted to go beyond what you could see. I couldn't figure out a way to safely shoot fire from the mouth so I decided the next best thing was something everyone would recognize, his signature roar.
The louder the better but you have to balance the size of the speakers vs what you can realistically place inside the suit.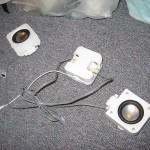 I searched for the loudest battery powered speakers that could run off an MP3 player I could find. In 2005 these were the best I could do on-the-cheap. I dismantled them and placed one speaker in the left breast and one in the right. To make that happen I had to extend the wires which was easy with a soldering gun and some patience.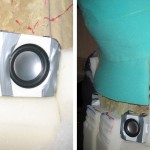 To attach the speakers to the suit I used duct tape of course. I cut slits in the flight suit and then just wrapped it around the speaker and into the suit. The speakers were placed on the breasts because that was the most forward facing position and the easiest to conceal.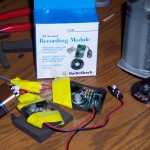 Now I needed a way to play the sound FXs. To do this I bought a 20 Second Recording Module that runs off a 9v battery from Radio Shack for about $10. Once I found a roar clip I liked (off DVD) I would hit the record button on the module and hold it next to the TV/Stereo speaker. I played around with the distance and the volume of the TV speakers until I got it just right.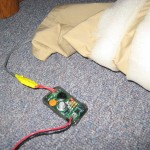 I removed the crappy speakers that came with the modules and wired them into the powered speakers. Then I placed each button (and 9v battery) inside each glove, that way I could make Godzilla roar by just making a fist. In the end I had two modules hooked up so I could have two different roars.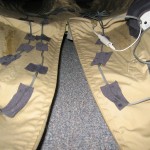 Wireless would have been ideal but not practical at the time, plus it would have been much more expensive. Thus I had to run the wires down the inside of the suit from the hands to the chest. It was easy to use little strips of fabric and some glue to hold everything in place. Just make sure to leave slack and secure everything cause it will make getting in and out of the suit much easier and you don't want to rip the wiring out.