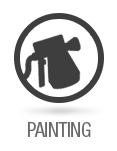 Painting
JIM FAZAR'S GODZILLA
Most people think that Godzilla is green, but the suit is really a variation of charcoal gray. The official suit was only made green for Godzilla 2000 and again in Godzilla vs. Megaguirus, but returns to his classic charcoal gray in subsequent films in the Millennium series. Even though the suit is usually charcoal gray I decided to make mine green cause I thought people would be more receptive to it.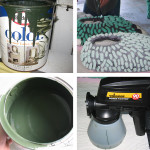 I kicked around the idea of sealing the entire costume with elastomeric roof coating but when I tested it on one of the feet it just didn't seem to help. Because I was only days away from Halloween I decided to just go ahead and spray paint the entire thing with an oil based paint using a Wagner Power Sprayer.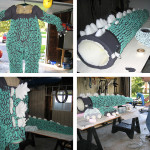 I prepped all the pieces by taping off the claws, velcro connections, etc and propping them up. My brother graciously let me use his garage which was perfect cause it's well vented and has protection from the elements. I hung the main body in the center of the garage and placed a broom handle through the arms to lift them up so I could paint underneath.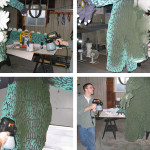 After spending almost two months working tirelessly on this costume it was scary to think that this coat of paint could ruin it. I wasn't sure how well it would take to the foam and fabric. Would it stiffen up? Would it flake off after a couple days? Even though I wasn't 100% sure how it would turn out I trusted my research, held my breath and just went for it.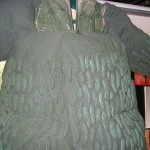 I don't remember how many coats I added to the main body but it needed quite a few coats. This image is of the main body with only a few coats, perhaps half done and the entire thing needed many coats before it was done. It's not like painting a flat surface, you need to hit it from many angles so you can evenly coat all of those textured scales. Luckily I had gotten two gallons of paint just to be sure and I used 90% of it.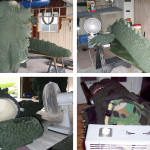 Once the bulk of the painting was done I set up fans to help expedite the drying process a little. The head was painted at a different location then taken back to my apartment to dry in a warmer environment. Since my head was going to be completely engulfed I wanted to make sure that it was as dry as possible so the fumes didn't knock me out.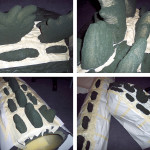 Once the main pieces were dry (or dry enough) it was time to do the secondary painting on the dorsal plates. I wanted to make sure I didn't get any extra over-spray so to paint the dorsal plates I used masking tape and paper to mask off the rest of the tail, body and head.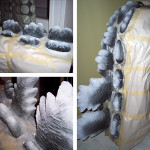 To get the gradient I wanted on the dorsal plates I used rattle cans of silver and white. I first did a few light passes with the silver to give it a base coat and was careful to keep the can far away cause I didn't want a hard line. After that I sparingly used the white to get the very tips of the dorsal plates to make them pop.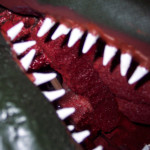 The final part to paint was the inside of the mouth. I used a dark red spray paint for the gums, tongue, all of it. I wanted to used shades of dark red to make it more realistic but I just ran out of time. I did spend some time painting each individual tooth so it looked organic and real. I didn't want a straight line delineating the end of the tooth and the start of the gums.