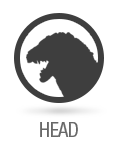 Head & Neck
JIM FAZAR'S GODZILLA
The head is so critical to making your costume look like Godzilla (and not some nondescript dinosaur) that I can't stress enough going the extra mile at this point. That being said I wish my head was closer to what I wanted but it's my own fault for rushing to meet a Halloween deadline (that I ultimately didn't meet anyway).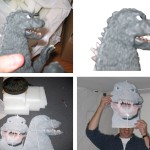 To begin I took photos of the plastic figurine/model I had and enlarged them to the correct size in Photoshop. I used my 1:1 scale diagram to help with the proportions and then I printed them out. This gave me a very good starting point for how big I should make my blocks of foam.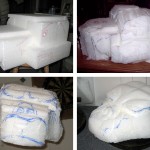 For my first attempt I glued blocks of Styrofoam together in the basic shape of the head. Then I used marker to draw some of Godzilla's basic facial features onto the foam. To cut off the big chunks I used something called the
Styro Wonder Cutter
, basically it's a thin hot metal rod that you use to melt through the Styrofoam. Because I was worried about the head being accurate, and since I have never carved before, I enlisted the help of my friend Dave who took industrial design back in college. He shaved and sanded the head like a master but in the end we decided to try again.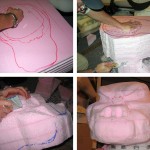 This time we ended up using the pink rigid insulation foam you can get at any home improvement center. We glued several pieces of the pink foam together then drew the basic shape of the head (and my head) right on the foam with markers. Dave proceeded to cut out the basic shape with a hand saw (the Styro Wonder Cutter won't work on pink foam and a saw is faster). After that he used sand paper and a Stanley Surform Shaver to shape it.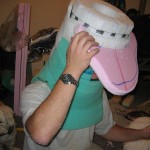 While Dave was carving the main head I carved the lower jaw. I used the smae process: drew the basic shaped, cut it down with a saw, then used the shaver and sand paper to get it to the final shape. When the time came I use dowels on either side of the jaw to hold it to the main head/neck and once I found a position I liked I glued it in place.
Tongue
I made the tongue out of a softer white foam (same foam that I used for the dorsal plates, feet and claws) and used scissors to shape them exactly how I wanted and glued it into place. When the time was ready I painted the inside of the mouth with dark red paint and did my best to make it look realistic around the gums and teeth. Looking back I should have painted the tongue a darker read to help define it more.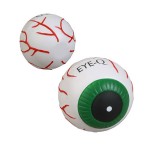 Eyes
For the eyes I cheated and used a pair of stress balls (that looked like eyes of course) that were lying around at work. You can find them online almost anywhere. I cut them to fit into the eye sockets as best as I could and just glued them in. I should have painted them to make them more like they are in the movies but time was an issue so they stayed as-is.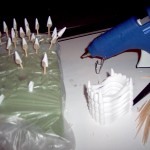 Teeth
As with the claws I could try and find a pre-made item at the Halloween store, or I could create them out of wood, foam, resin, etc. I decided to go the quick route and buy about 20 pairs of vampire teeth at 50 cents a piece. I cut off the two fangs (thus giving me 40 to work with) from each set of plastic teeth, and then I hot glued a toothpick into each fang/tooth and let them dry. Once they were ready all I had to do was stick them into the upper and lower jaws (which were made out of hard insulation foam) and I was done.
Neck
The neck was one of the most important parts of the costume because it had to be big enough for MY head to fit into, yet sized correctly to look accurate. It also had to be sturdy enough to hold Godzilla's large foam head and balanced evenly so the neck/head wouldn't topple off as I was stomping around.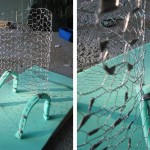 For the skeletal structure of the neck I used chicken wire because it is sturdy and lightweight. I sized the thickness to my 1:1 diagram, cut it with wire cutters and painstakingly duct taped all the ends in a cylinder type shape. Then I cut and shaped a comfortable shoulder pieces out of more chicken wire that I secured to cylinder.
I did a lot of sizing and bending to get it to fit correctly on my shoulders. The foam strips that I originally glued to the front of the flight suit had to be cut to obtain a nice transition. The back of the neck actually rests against the back of my head do to the angle that I wanted to achieve. Godzilla never walked with his neck fully straight up and down, he's always hunched – at least he was in the movies from the 1970s.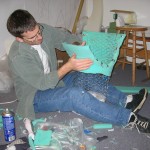 After test fitting the neck I began covering it with a thin layer of the green foam. I mostly used spray glue and some fabric on the inside to help hold it onto the chicken wire. I also place a very thick piece of Styrofoam at the top of the neck that would serve as a secure base for the head. Make sure to leave a nice size hole in the Styrofoam for ventilation cause it will get very hot.
;
View Hole/Door
The original Godzilla suits had very small slits for the actors to see out of but I knew I had to make this more practical since I would be taking this costume contests and conventions.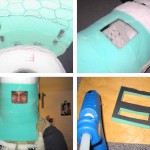 With that in mind I decided to make a full 'door' just smaller than my face that could be fully opened, but when closed I could see out it. I cut a square hole into the chicken wire and duct taped the ends then cut through the foam. The suit was going to get really hot so having a large door to open every now and then would be ideal for fresh air.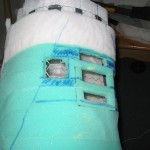 I made the door out of foam, and then reinforced it with cardboard. After some tests I quickly realized that I was going to need more peripheral vision (as well as another slit above) so I cut out two more holes on either side of the door that I could glance through. I can't remember the type of black fabric/mesh I used but I covered all the openings with it. By using it you can see out of the suit but no one can see in. At the final stages I did my best to camouflage the areas so people couldn't tell the door or eye holes where there.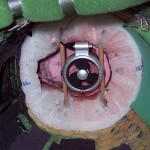 Ventilation
The entire suit is made out of foam so it can get very hot in there and it's not easy to pop in an out for a bit of fresh air. If I couldn't get out to the fresh air then I needed a way to get the fresh air in. Since heat rises I thought it would be best to have a hole at the very top of the neck that would vent out of the mouth. I also placed a battery powered fan in this area to help move the air. For the best air movement I would open the face door so the air would come in there then get sucked out the top.