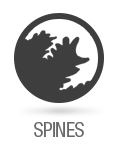 Dorsal Plates
JIM FAZAR'S GODZILLA
Some would say that the Godzilla's dorsal plates are his most defining characteristic and I agree. When I decided on creating my costume based on the 1970's version (Specifically Terror of Mechagodzilla) I knew the dorsal plates had to be identical.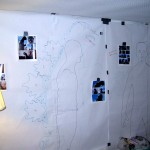 On the 1:1 diagram I took the time to number/letter each spine so I could keep track of them. The larger/inner most dorsal plates got numbers and the smaller/outer dorsal plates got letters. At first you don't think there are too many because you're just thinking about his large dominating ones on his back, but when you add them up from the top of his head to the tip of his tail there are 30-40 dorsal plates (for this version of Godzilla anyway).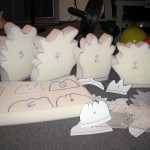 I traced the shape of each spine onto tracing paper, cut them out and then traced that onto pieces of foam. I chose foam because it's easy to shape, light and very flexible. If you watch any of the movies closely you'll notice that when Godzilla is in the midst of destruction or battling another monster the dorsal plates flex a lot.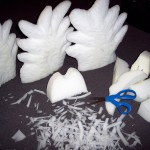 Then I carefully cut and shaped each spine with scissors and moved the numbers from the side to the bottom so I could keep track of them.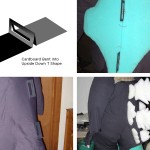 To secure the larger dorsal plates to the Godzilla costume I used pieces of poster board that were secured from within the suit. I partially split the spine at it's base so it would fit over the poster board and secured them all with spray glue. The smaller dorsal plates were attached directly onto the fabric with fabric glue.