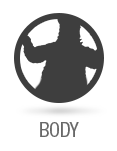 Body
JIM FAZAR'S GODZILLA
I stared at the flight suit for a couple hours trying to figure out the best place to start. It's true that the first step is the hardest, but once you get past it now you have made progress and you're on your way.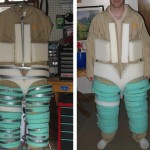 Godzilla is big and wide and I'm not. Therefore I needed to do something to the suit to make it bulky so I decided to start gluing strips of foam to the suit. I bought A LOT of foam from the fabric store (United States: Jo-Ann's, Michaels. Etc) in different thicknesses and densities. If you want to save money I hear you can obtain very similar foam from old couches and chairs. I didn't do it but there is no shame in ripping apart someone's couch that they left on the side of the road… who am I kidding, yes there is! If you are going to do that then I would recommend doing it 3am.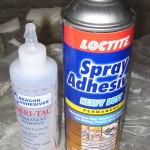 Throughout the entire project I used a lot of glue. The two that I used exclusively was Loctite Spray Adhesive, Heavy Duty Permanent and Beacon Adhesives Frabri-Tac Permanent Adhesive. I went through LOADS of glue and its not cheap so look for coupons!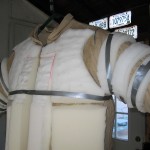 I decided to use strips instead of huge pieces for two reasons. First, if I just covered the entire flight suit with foam then it wouldn't be flexible at all. Secondly by using strips I could control the varying contours of his body easier and I could leave area in-between them. In time I would place pillow filler in-between the larger strips to help fill him out, but more on that later. Basically I wanted to bulk up some areas more than others and this gave me more flexibility. I examined pictures of Godzilla and then decided on how big the strip should be then cut it.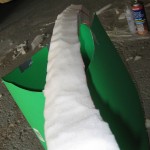 After that I shaped the piece of foam with scissors to get rid of the 90-degree angles. Remember, Godzilla is a living, breathing thing and he needs to look as real as possible. I did my best to contour the strips that were already glued to the body, and also the pieces (like the one above) so they would fit correctly. Once the strip/piece was ready I spray glued the back of it and the wrapped it around suit and duct taped it to hold in until it was dry.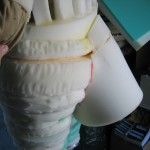 After I was finished with the basic bulking up of the main costume I started work on how the tail would connect. The tail was going to be big and heavy so I knew the connection to the main body would have to be very secure. I rolled a piece of foam and created a hallow tube that I cut to the exact shape of the body. I used a lot of glue and secured it at several points.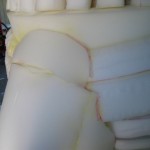 It was important to make the connection secure but I also wanted the tail to flow smoothly behind me. To do that I made sure not to connect the tail at all to my legs. That would put unneeded pressure on suit and tail. Towards the end of the process I used fabric to make sure the connection looked smooth even if they weren't underneath.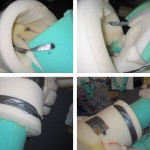 To connect the main body to the tail I devised a simple male/female connection system. The tail would be the female connection and the body would have the male connection. I rolled up a bunch of foam and placed it inside the tube I had just created and secured it with glue and a duct tape strap. The strap went through both tubes and then I wrapped it with more duct tape.