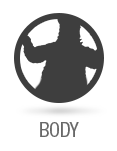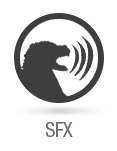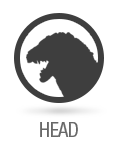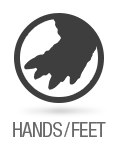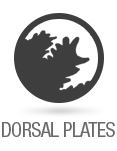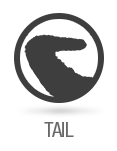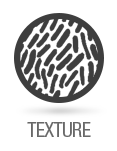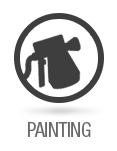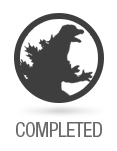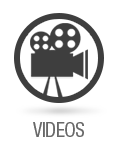 Building a 7 foot tall behemoth of a costume is a daunting task that can take a VERY long time to complete. It was early September 2005 when I started working. That left me less than 2 months before Halloween so to kick start this project I decided to take a week off of work. Yes, that's commitment!
1:1 Diagram
The first thing I did was take several pictures of myself standing in different positions; front view, side, top down, etc. Then I took the same pictures of the Godzilla figurine I was using as the basis for my costume. I needed these pictures to help me figure out how big to make Godzilla.
The model I choose wasn't an exact match to the suit used on the movies, but it was great to have cause it's 3-Dimensional and that way you can spin it around to help with getting everything just right. I used my favorite image editing software Adobe Photoshop to overlay silhouettes of my pictures on top of the Godzilla pictures. Then I did my best to line up all the important joints like your shoulders, elbows and knees. I wanted to get these as close as possible for an accurate representation.
After that I projected the final image on a wall at my exact height. I traced both outlines (Godzilla and myself) on large pieces of paper and viola, I now had a 1:1 scale diagram of me inside the costume!
I took that diagram to my work area and taped it on the wall with several other pictures of Godzilla screen shots from movies using the suit that I wanted to mimic. From the 1:1 diagram I was able to get almost exact size measurements for every detail of Godzilla.
---
Stand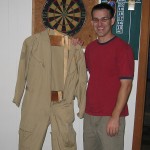 To work on such a large suit/costume I thought I would need a stand for the suit to fit over. I devised a wooden stand with legs, neck and short arms to hold everything up. This would be the easel for my canvas, unfortunately this easel didn't cut the mustard.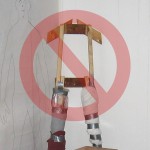 It was too inflexible and hard to move around so I could get to every side. There was no easy way to get the suit off the wooden frame either. I'm sure there is a way to do this but I came up with a different idea.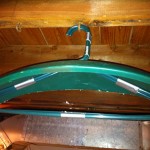 I quickly came to the conclusion that my Godzilla costume was going to be so big and heavy that it couldn't stand on it's own so I decided to hand it up. I used several normal coat hangers, a bunch of duct tape and the top of a curved plastic garbage can (the dark green area) that I cut to be about the width of my very own shoulders. The more I could do to mimic my own body's size the better.
---
Costume Base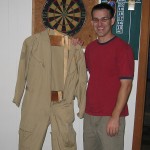 Instead of starting from scratch I decided to build upon something I already had. A flight suit. This was going to be a big costume, and it was going to be very warm since it would be almost 100% foam. I wanted to make sure it wasn't skin tight so I decided on using clothing that was bulky, and this is important. Luckily I had an old flight suit that you can get from any online military surplus store to use. It's nice because the flight suit is a one-piece but I'm sure you could start with an old pair of sweat pants/shirt if you needed.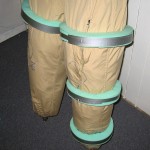 A flat flight suit is not representative of a living person so I stuffed the flight suit with foam, blown-up balloons, old shirts, whatever I could get my hands on. Fill out the inside of your base suit to mimic a body as much as possible or even bigger.
It would be nice if I was able to create the costume as one full piece like they do in the movies, but I didn't think it was a good idea. I had to decide on the best way to break up the sections so they were practical as as well as secure. It's up to you if and where you would like to make your sections but I made my Godzilla costume in 4 main areas:
Body/Hands
Tail
Head/Neck
Feet
---
Materials
There are lots of different ways to create a costume and even more types of materials to choose from. Here is a basic listing of what I used in the construction of my Godzilla costume:
Fabri-Tac Permanent Adhesive (12x 8oz Bottles)
Loctite Heavy Duty Spray Adhesive (5 Cans)
Hot Glue Gun
Hot Glue Sticks (12)
Green High Denisty Foam (5.25 Yards 1/2 inch)
Rigid Pink Insulation Foam
Stretchy Grey Fabric (11 Yards)
Black Vinyl (2.5 Yards)
Green Latex Paint (2 Gallons)
Spray Paint
Styrofoam
Garden Gloves
Slip-on Shoes
Flight Suit
Duct Tape
Chicken Wire
Pillow Stuffing (Soft 'n Crafty)
Scissors
Backpack Straps
Velcro
Electric Carving Knife
Radio Shack 20 Second Recording Module
Battery Powered Speakers
Sandpaper
Saw
Toothpicks
Black Interfacing (fabric to see through)
Toilet Basin Tube (Secure Tail)
And a VERY large area to work in.