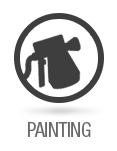 Painting
DAWN LUPTON'S GODZILLA
Now to painting. We used just regular house latex paint to spray onto the suit. Got a cheap Caulfield sprayer ('cause I wasn't painting this by hand) since I had an air compressor. Some notes. Yes you can spray undiluted house paint but after a while it will start to spray chunky. Dilute by at least a third. Second invest in at least mid-grade sprayer. I had to dismantle mine every time I had to refill and it was a bear to take apart. Still even with the fuss it was Much easier to spray than to hand paint, and with our hot, dry New Mexico sun, the coats would dry in 20-30 minutes.
We had no real idea if the paint would work, but it did. I started with a grey undercoat to give the suit some depth.. which was immediately over painted by at least three coats of green to cover all the white showing between the ridges. Oh well.
Grey paint on test piece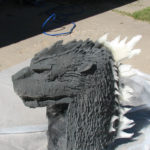 Grey paint on the head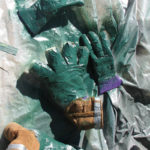 Original duct take hands and feet in green. Blergh ugly!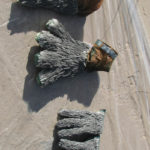 Gloves painted after texturing..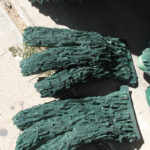 Much better!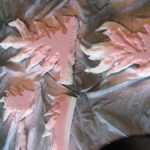 Attempted to get some base color in the scales, given them a "meatier" look. Again that all vanished when I applied the white as I used More paint to give it that glossy look. Note that this seems to eat away at the foam and it will break off and crumble as the foam ages.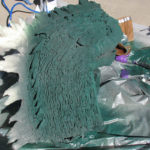 Head shot green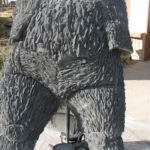 Body done in grey then green…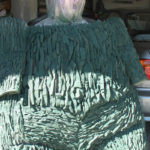 I think when I redo the suit I go towards the battleship grey as it does look good…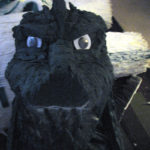 Really looks good when I put his eyes back in.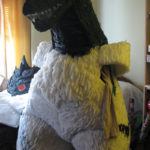 Mounted the painted head on the manikin to see how things are coming along…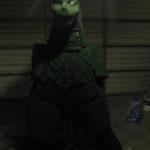 There is something to be said about lighting. He looks great dark, but all his faults show under the bright flash.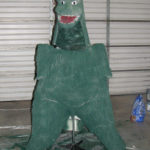 I also had to remove his teeth so the would get flecked with green and glued them back in later