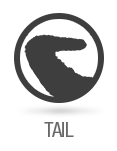 Tail
AUSTIN & ALEX BENNETT'S GALVERA (Inspired by Godzilla)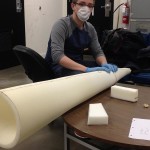 The tail ended up being almost one whole roll of foam. I was a little skeptical about making it out of one piece, but the weight and size still let it sway and bend like a normal tail, especially after latex and paint.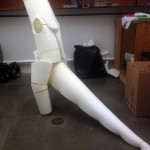 The tail propped up against the body before a connecting piece was made to make a more gradual slope from the torso piece to the tail instead of just connecting them. The tail may look stiff here, but it softened out later on.
VIDEO HERE
A walking test with the tail attached! Also the neck here was too far forward, our second iteration. The third time was the charm!