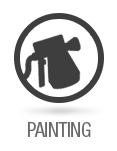 Painting
AUSTIN & ALEX BENNETT'S GALVERA (Inspired by Godzilla)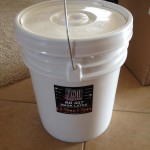 Before we painted, we coated our monster with RD407 Latex by Monster Makers. This is the $150, 5 gallon bucket, which we used about ⅔ of for both kaiju.
Before applying the latex, we coated Galvera with a mixture of water and glue that would help seal up the porous foam and lessen the amount of latex we used by a little. We also moved upstairs for ventilation, because MAN did this stuff smell fishy.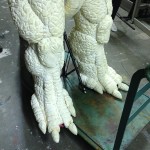 The legs, fully textured with latex added to them. After it dried, we could hardly tell there was foam underneath, and instead it actually felt like a thick rubber suit.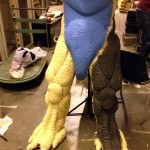 We used your typical paint and brushes to cover our creatures as spray paint may not be as sturdy in the long-term. Also, Lowes has test quarts for $5, and we used two quarts of black to cover our whole monster.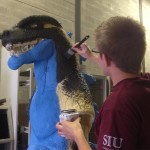 Painting…
Painting…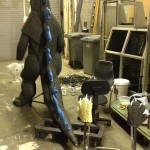 …And more painting!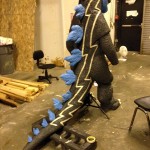 To create the lightning bolt design that rides down Galvera's back, we taped off equal patterns on both sides and dabbed blue until the areas were mostly covered. Too thick and straight looks too crafted and not organic.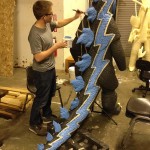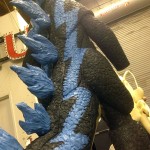 Thunderstruck.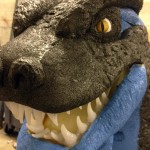 The final face and eyes, besides the tongue piece!