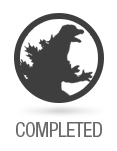 Completed Costume
AUSTIN & ALEX BENNETT'S GALVERA (Inspired by Godzilla)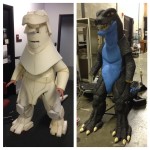 Construction of the suits lasted about four months, and finally reaching our destination was surreal. It was time to do what we brought this monster to life for.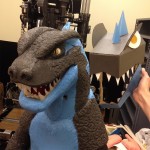 Galvera waits patiently in a storage room until he's needed on set. The mask on the right is a homemade mask the young "actor" within the movie wears as a child, fantasizing about being a giant monster.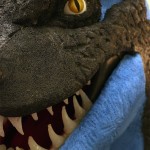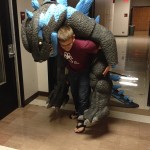 Even with all that foam, latex, and paint, he's still mobile! This was the easiest way to transport him to construction each day, and to set when he was all finished.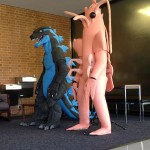 Shrimpy and Galvera before their first scene.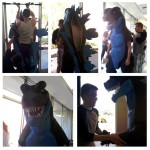 Initially, Galvera's hips were too high and legs too deep that we had trouble just "stepping" into him. We therefore had to seek out a doorway that we could use a pull-up bar with and hoist our actors up as they squirm to fit inside. It took about five seconds to enter each monster.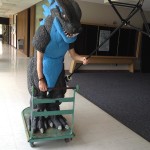 Long walks can be exhausting if you can't breath. It's much easier to mush a party of humans to pull you like a chariot.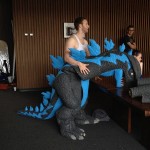 Justin Hankinson, our lead actor who played "Marc" take a break in the suit. Besides the arms and hands, the whole suit was one piece because we wanted to emulate what the actual suits behaved like when the actors were outside of them. This might not be the easiest way of entering, however!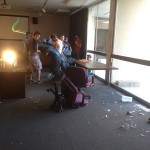 We trashed a conference room and made quite the mess on set…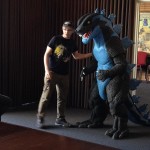 Waiting for direction.
VIDEO HERE
A Behind the scenes video of the culprit of the mess! Justin seemed "freed" in the suit; unhindered by what was around him, he just naturally trashed the place, which may have led to a few split pieces of foam…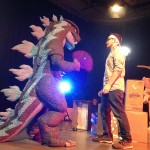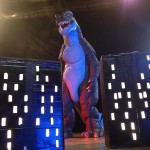 Galvera poised for a showdown with Crushtacean.